23Jul2008
Filed under:
General
Author: Daddy
Yesterday our daughter turned one week old. I know I know – one week isn't long. It has still flown by considering all of the things that have happened. For a little birthday gift they were able to take off the blue light (which helps prevent jaundice) and they took her off of her oxygen supply. This is quite amazing considering her size and age! There is no doubt how she's able to do these remarkable things.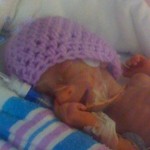 We were also treated to a few nice pictures during our evening visit. Naturally the first day I don't take my camera she smiles for us. I'm not sure if it was a twitch of sorts or her just happy to have us there. We couldn't sit there and not take a picture so I used my phone to grab a low-res shot. It's the cutest little thing seeing her smile like that.
I also noticed something else about our daughter. I got a shot of her totally chillin' in her isolate. Her legs are propped over her little bed and she looks like she might as well be on the beach tanning. Only time will tell whether or not this is a glimpse into her personality!
Today was a really nice day for me, dad. I went back to work and did my best to pick up right where I left off. I actually got just about all of my work done that was backed up over the past 10 days. I couldn't have been at a better place during this time either. The staff at SCC is so stinkin' awesome and they are blessing my family immensely in this time. For any of you SCCers reading this we love you and sincerely appreciate all that you've done for us thus far!
One friend/co-worker in particular offered to take some pictures of our precious little one. Nikkie and I are very excited about this because neither of us are very good photographers. I've added a couple of shots that she took to our flickr photos so you can click the little thumbnails to the right to see them.